Out of all the nooks of Venice that radiate a sort of nostalgic, mystical glow, San Polo is the oldest. It's also the smallest of the six Sestieri. It is known for its grand palaces that are truly a feast to the eyes. Bathing in beauty, indeed it is a sight to marvel at and unsurprisingly, welcomes visitors often. It stands just a couple of steps away from the Rialto frequented by chefs and locals alike. Within this Siestri lies an olden gem which we know as Aman Canal Grande, Venice's first-ever 7-star hotel catering to the highest elite.
The History
In the 16th century Venice, the noble Coccina family of Bergamo commissioned for a beautiful palace to be built right in the Grand Canal. Little did they know that centuries later, this breathtaking Baroque-style palace would transform into Venice's first 7-star Aman Canal Grande. This marvelous wonder is located between Palazzo Giustinian Businello and Palazzo Donà a Sant'Aponal.
It's a tall, imposing and overwhelmingly gorgeous building truly fit for royalty. It does in fact currently belong to the noble family Arrivabene Valenti Gonzaga. The residents and their 5 children continue to live on the top floor. The rest of the building is rented out for the Aman resorts. Which welcomes its elite guests for a rich stay, providing service like no other. And of course, when you hear the words 7-star, you will rightly assume so.
Anyone would recognize the Grand Canal Grande as it looms big and mighty with two tall obelisks on its roof. Most guests arrive by boat, rowing them to the entrance of Grande Canal Garde. The grand doors of the imposing building welcome you in, however, as much of a hotel it is, there is no concierge or receptionist curled up in corners, as it is also a private house for the family of Arrivabene Valenti Gonzaga.
The rooms
The palazzo only offers 24-rooms for residence, and each and every one of these rooms offers priceless views over the Grand Canal. Sansovino stanza, erstwhile dubbed 'The Hall of Four Doors' is one of the 24 luxury accommodations. It harbors a fireplace designed by Jacopo d'Antonio Sansovino himself. A relic from the 16th century, it is sure to make you feel a whiff of nostalgia as the hearth warms you up. The room further dazzles with polished wood paneling, silk coverings, painted frieze, and intricately carved ceilings.
A gift left behind but the greatest decorative painter of 18th century Europe, Giovanni Battista Tiepolo, is the Alcova Tiepolo Suite. It's a grand quite stretching 103 square meters and harboring not only a bedroom but also a separate sitting room overlooking the Garden Terrace. The celebrated Italian painter had printed onto the walls theatrical frescoes that surely reflect the Rococo style. With glamorous Chinoiserie murals, it's a room like no other as it bathes with artistic beauty.
Maddalena Stanza, Palazzo Chamber Luminoso, Papadopoli Stanza and The Affresco Chambers are both painted with glorious historical frescoes and adorned with silk wall coverings. With grandiose chandeliers, intricately carved ceilings and plush cover, it offers a priceless view over the Garden Terrace once again. This room is divided into a bedroom-cum-living area furnished with writing desks, sofas and lounge chairs.
Dining and Winin'
Arva and Piano Nobile
We know Italians for their appetizing diners. Arva is just one of Aman's tribute to this well-known traditional Italian dining. Soak up the sun in the two private gardens available for leisure. Then stroll to the Arva which will welcome you with the hearty fragrance of freshly cooked goods.
Traditional Italian cooks concoct these delectable dishes in a culture of sustainability. However, each and every ingredient is freshly hand-picked from the lush landscapes and mushy soil. These ingredients come straight from the Rialto, passing through the hands of local farmers, butchers, fishermen, and so on. Every bite of your succulent dinner consisting of Adriatic fish, single-source olive oils, artisanal pasta and so much more is to remind you of the locally sourced delights.
Aman graciously offers Piano Nobile as its dining area. Perfect for a romantic atmosphere, Piano Nobile is grandiosely donned in 16th-century victorian flair. Golden chandeliers and frescoed walls will make you realize you're in a palace. It's the perfect time to hold the hand of your loved one to the gentle sounds of the Canal water rippling from outside the huge windows.
The Bar
Nothing is fun withing out a bit of winin'. Aman offers its guests its own bar that overlooks the secret garden right beside the renowned Canal. Guests here can lounge back and delve into luxury to the sound of soft jazz thrumming in your ears. Service stretches from drinks, lattes, tea, knick-knacks, the classic Venetian Cicchetti with an Aman twist. Treat your taste buds with a wide array of Tanqueray Bloomsbury, Nikka Coffey Grain, Opihr and Gin del Professore monsieur.
The bar is, in fact, a homage to Lord Byron, the leading figure of the Romantic Movement. It's warm, inviting, perfectly intimate and fit for a romantic time with your loved one. Watch the sunset bleed into the pinkened skies as you sip your favorite cocktails from the world-class resident mixologist.
The Adventures
Opera
What is Romantic culture without a bit of its classic world-renowned opera? The guests at Aman are offered the once in a lifetime-rescue privilege to engross themselves in The house of Verdi and Rossini, of Prokofiev and Britten, Teatro La Fenice, the international opera venues since 1792. For the lovers of old relics and opera, this is a chance you cannot miss out on.
Rialto
If you wish to try something more interactive, take a gondola into the Rialto market at the heart of Venice. The chefs themselves will accompany you, explaining to you the nooks and crannies of the gastronomic wonder that has lived on for almost 1000 years. It surely will feel like going back in time as you get introduced to fishermen and local vendors alike selling fresh vegetables, lagoon fish, seafood, and so much more. Of course, after handpicking content to your liking, you will be the judge and jury as the chef later prepares the meal solely for you to taste.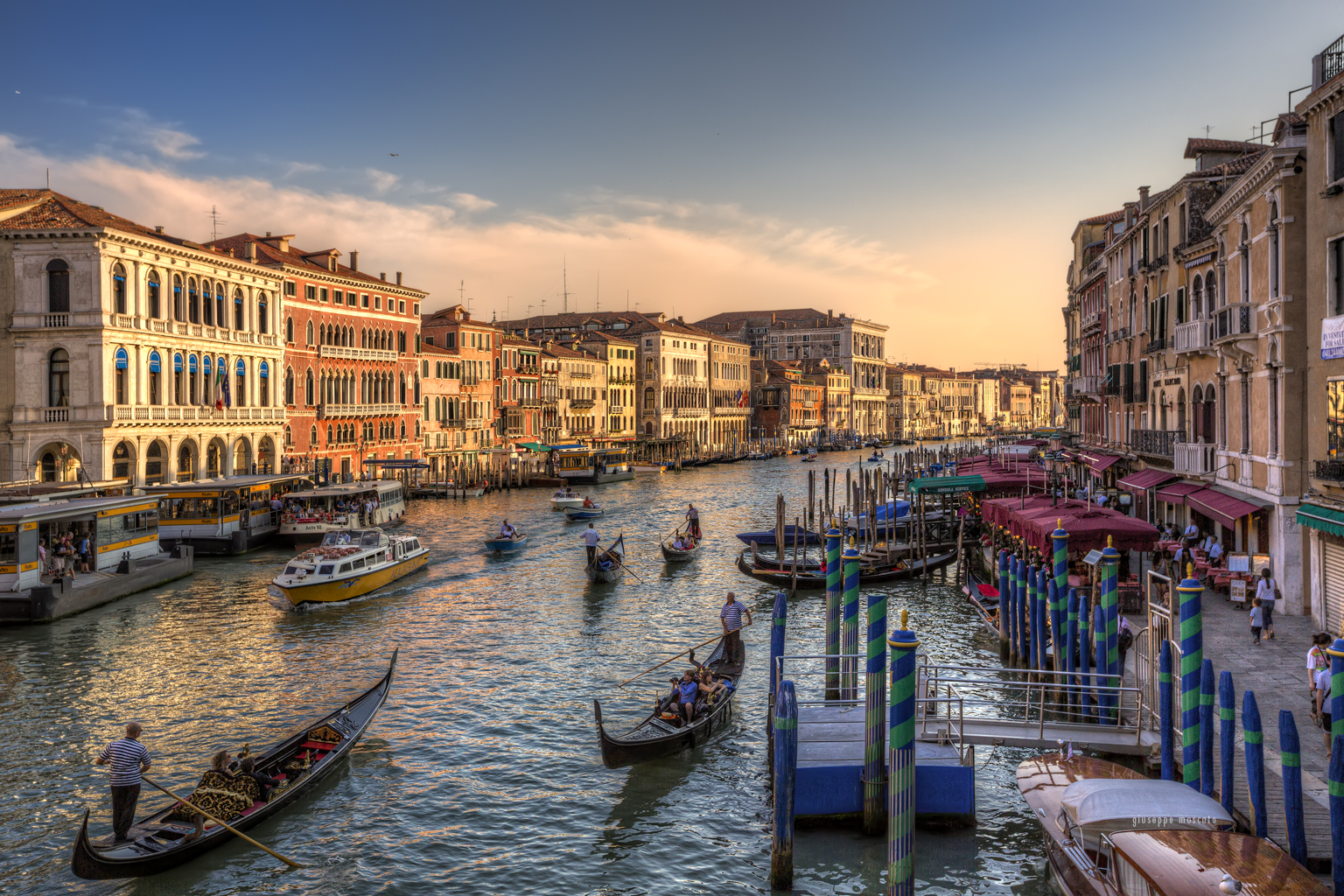 Canal Breakfast
Venetian mornings are just as precious as the dazzling nights. Enjoy a boat ride coursing you through the canals as the morning sun lazily rises up from the fluff of cotton candy clouds. It's a breathtaking sight to watch the way the water sipples and shimmers under the glow of the city awakening alas. And what's fun on an empty stomach? Of course, you are delightfully offered a freshly prepared breakfast, from the chef, with love. It's an experience like no other to spoil your tongue with succulent breakfast. All as you watch the morning sun make its presence known while drifting through the network of canals.
Spa
After a long day of exploring the window into the glory of Venetian history, treat yourself bountifully with thermal healing straight from Salsomaggiore Terme, Nothern Italy. Pamper yourself with mineral-rich waters, thermal salt, and bentonite clay. These healing substances will truly curate your inside out.
Finally, Aman Canal Grande is the perfect place to go if you want to enjoy Romantic culture from the bottom of your heart. Whether it be for a lone getaway, a marriage proposal, an anniversary or even a wedding, feel free to check out Vebudo Elite's services for whatever celebration you wish to throw and we will handle the rest from there onwards. The beauty of Aman Canal Grande will surely spin up a mystical adventure for you and your guests to excitedly tell the rest about.