A picture is worth a thousand words. We have all heard that phrase thrown around casually. But did you know that a picture is, indeed, worth a thousand–if not, thousands of dollars! From our other special lists, this one stands out for rich history and culture. Let us look into the list of the most valuable paintings of the current time.
For ages, we have been curators of art, the lovers of expressions and colors. From renaissance and neoclassicism to the contemporary era. Art has come a long way and each piece only ages like fine wine. It is indeed applaudable how they rise up in value the more they age. But how far exactly do these price tags stretch to? Without further ado, let's start the countdown.
10. Masterpiece by Roy Lichtenstein ($165 million)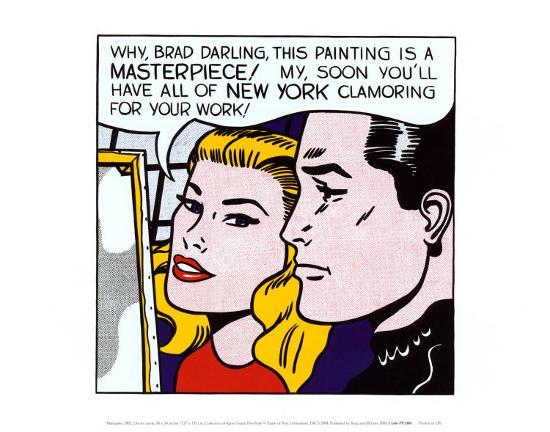 We kick off our list of the most valuable paintings with none other than Roy Lichtenstein's Masterpiece from 1962. This piece is a classic pop art painting home to the artist. The source of this piece is a comic book panel, utilizes the Ben-Day dots. The narrative of the painting is often regarded as an ironic joke relating to Lichtenstein's actual career.
This painting was bought for $165 million in 2017 by the Hedge-fund billionaire, Steve Cohen.
09. Wasserschlangen II by Gustav Klimt ($170 million)
Wasserschlangen, or 'water serpents' is a piece by the celebrated Austrian artist, Gustav Klimt. Originally, this painting had belonged to Jenny Steiner, a Viennese silk factory owner and art collector. However, it was seized by the Nazis in 1938. After a few hurdles, it finally landed on Gustav Ucicky, allegedly Klimt's illegitimate child. From there, it was then sold. This painting has in fact exchanged the hands of Dmitry Rybolovlev and Yves Bouvier. In 2015, this painting was sold for what's assumed $170 million.
08. Les Femmes d' Alger ("Version O") by Pablo Picasso ($179.4 million)
Les Femmes d'Alger is a series of 15 paintings and numerous drawings by the Spanish artist Pablo Picasso. The series, created in 1954–1955, was inspired by Eugène Delacroix's 1834 painting The Women of Algiers in their Apartment. It is one of several paintings by Picasso in tribute to artists that he admired. Picasso's signature cubism form of art is a representation of the Algerian concubines.
This painting was bought by the Qatari royal family in 2015 for $179.4 million.
07. Pendant portraits of Maerten Soolmans and Oopjen Coppit by Rembrandt ($180 million)
The next up on our list is Rembrandt's first-ever full-length portraiture. He painted the couple portrait of Soolmans and Coppit in 1634 for their wedding. A fun fact about this is that despite all the centuries that have passed, these paintings have not been separated once. The Rothschild family owned it at some point. In 2015, Louvre and the Rijksmuseum bought this, each covering 50% of the expense.
However many time's it had gotten passed between hands and museums, these two portraits have always been together. In fact, art experts firmly believe it should continue to be so. Indeed, it deserves a good spot on a list of the most valuable paintings.
06. No. 6 – Violet, Green, and Red) by Mark Rothko ($186 million)
This popular piece by Latvian-American abstract expressionist Mark Rothko's was made in 1951. The title of the painting itself is vague and ambiguous. This was Rothko's style. He preferred leaving the full interpretation of his art to his audience. Unlike most of the paintings so far in our list, this one stands out, indeed, with three basic colors overlapping each other horizontally. Rothko is known for introducing Abstract Expressionism. So it's no wonder that he painted a picture so simply but containing ideas of morality and spirituality.
This piece was privately bought by Dmitry Rybolovlev in 2014, for a whopping $186 million.
05. Number 17A by Jackson Pollock ($200 million)
Another famous abstract expressionist is Jackson Pollock. Created in 1948, Number 17A is unique for its bleak title contrasting heavily with the vivid details of the painting. This piece of his is actually a prime example of his radical approach to drip painting introduced by Pollock himself. Of course, most of his style wasn't well-received by the public. Pollock's pieces had low-value in the market.
The billionaire Hedge Fund manager and art collector Kenneth C. Griffin bought this piece for an estimated $200 million.
04. Nafea Faa Ipoipo by Paul Gauguin ($210 million)
Paul Gaugin's Nafea Faa Ipoipo (translating to ' When will you marry?') is a famous piece with a rich story. The French post-impressionist created this piece during his stay in Tahiti 1890 in search of a muse. However, the land of Tahiti couldn't give him what he wanted for the sole fact that it was invaded by the French. This inevitably swallowed up the Tahitian culture under the colonial rule. By some stroke of luck, Gaugin indeed found his inspiration which he channeled into this piece. This primitive design depicts the freedom, color, naïvety, serenity, and innocence of the Tahitian culture.
Considering its rich history and sentiment, this piece of art was previously dubbed the most expensive painting in the world. According to reports, it was privately sold to Qatar's royal family in 2015 for $210 million.
03. The Card Players by Paul Cézanne ($250 million)
Cézanne created his series of The Card Players in the early 1890s during his final years. This piece portrays two tradesmen dressed up in formal attire. The background is a simple one, lacking the rowdiness of bars depicted in his other paintings in the series. Cézanne's works were, in fact, infamous for their lack of emotions. This was quite radical as most paintings of the 17th century were heavy-laden with emotions.
The Qatar royal family bought this piece in 2011 for $250 million.
02. Interchange by Willem de Kooning ($300 million)
The 2nd of the most valuable paintings on our list happens to another case of it's not the painting that makes up the value. It is the story that does it. This piece was painted in 1955 by the Dutch-American abstract expressionist, Kooning. This style has heavy inspirations from Pollok who is another mentioned expressionist in this list. In fact, it also marks a transition period in Kooning's art styles as it also included Franz Kline's influence.
The Hedge Fund manager and art collector Kenneth C. Griffin bought this piece for $300 million. He acquired it along with Number 17A by Pollock earlier mentioned in this list.
01. Salvator Mundi by Leonardo Da Vinci ($ 450.3 million)
The final and most valuable and expensive painting in the world is by none other than Leonardo da Vinci. He presents Christ as characterized in the Gospel of John 4:14: And we have seen and testify that the Father has sent his Son as the Saviour of the World. Da Vinci depicts Christ positioning his hand for blessings. The other holds onto a globe dubbed as the globus cruciger, symbolizing the earth.
This piece had exchanged hands quite a few numbers of times. It was bought by the Crown Prince of Saudi Arabia, His Highness Sheikh Mohammed bin Salman Al Saud in 2017. Being one of the most valuable paintings in the world, it was sold for 450.3 million. This is the highest ever paid for a painting in history.
There's no limit to how valuable a painting can be as we have seen from this list. In fact, there's no proper value you can put into pieces so bountifully rich in history. Almost as if relics depicting the era.